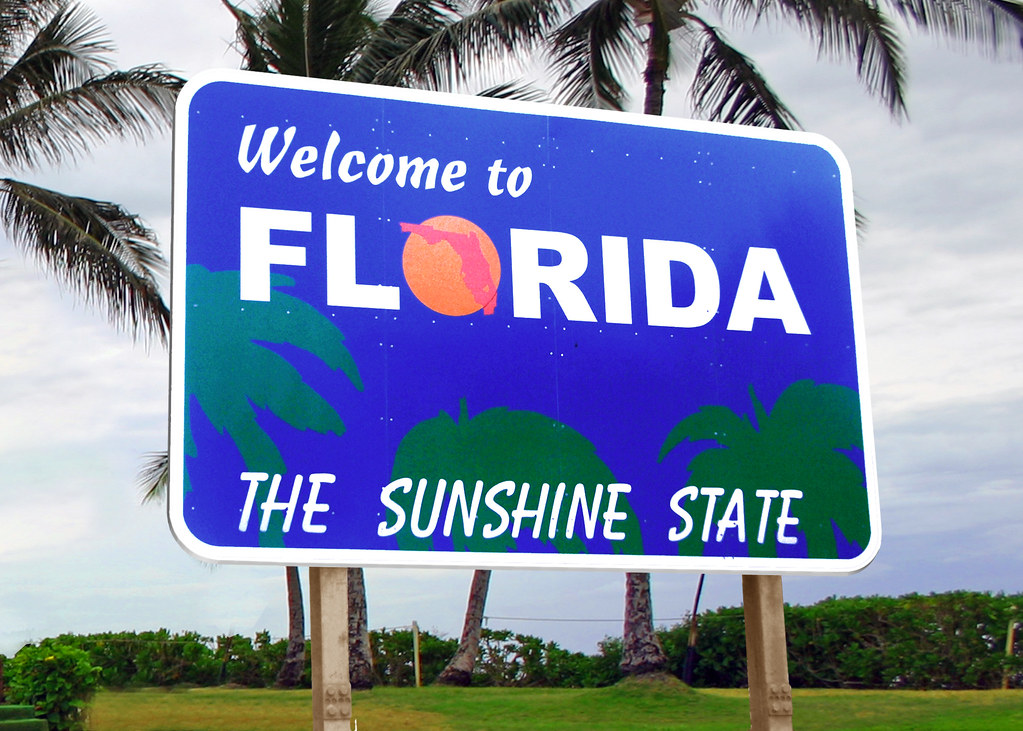 Excerpt from HousingPredictor.Com
Florida is the U.S.'s southernmost mainland state and is home to the country's oldest city. Known as the Sunshine State and renowned for its beaches and beautiful ocean views, the state has quite a bit to offer economically as well.

​Florida is the U.S.'s 3rd most populous state and 8th most densely populated. In terms of area, the state ranks 22nd in the nation and is 65,755 square miles of varying terrain. Florida is made up of islands, swamps, coastline, as well as various inland land types.
Florida's culture is as diverse as the physical traits of the area itself. The area has cultural influences from Latin, African, European, and indigenous cultures all blended together. This is represented in the day-to-day life, cuisine, and architecture throughout the state.

As you might expect, the housing market in Florida varies greatly across the state as there are some very popular metropolitan areas in Florida like the Miami-Dade metropolitan area and Orlando.
What Will 2019 Bring the Florida Housing Market?

2019 is slated to be a strong year in the Florida housing market. Across the state, a perfect storm of supply, demand, and other economic factors will create another year of stable growth.
Much of the direction of the Florida housing market is determined by condo development and availability as condos are a huge source of housing in many parts of the state. In 2017, Florida experienced a lack of construction and series of price reductions on many condos. Developers seem to have clued into the oversaturation of the condo development and the "gold rush" is over.

Florida will, however, likely experience an influx of retirees as the number of retiring baby boomers continues to increase. They've saved up a decent retirement amount and are finally ready to let go of the home they've likely paid off. Florida is a popular destination for retirees, so homes purchased in 2019 will likely see rapid appreciation in value over the next few years.
​Florida's housing market is so strong largely because of a favorable unemployment rate in the state. The unemployment rate in Florida was at 3.9 percent in January, meaning that more people are employed in Florida than the average nationwide which is 4.2 percent.
Florida fluctuates rapidly between a buyer's market and a seller's market, and the market tends to vary drastically in different markets. This is, as we previously mentioned, largely due to the diversity in the state. There are rural and metropolitan centers scattered throughout.

A good signifier for those looking to invest in the Florida housing market is the continuously increasing property value across the state. In the last year, property values statewide have risen 9.6 percent on average. In fact, February marked a continuous streak of 74 months that statewide sales prices have risen year-over-year.
A property value increase alone could potentially be indicative of a troubled housing market, but the inventory availability shows that the Florida housing market is anything but.

The inventory in Florida is increasing and so are prices. This reveals an increasing demand for living in Florida.
​The housing inventory rose 6 percent in February year-over-year for single-family, detached homes. In the townhome and condo sector, the increase in inventory percentage was 6.9 percent.
​Supply is increasing alongside the demand for housing in Florida. ​Developers have taken notice of the condo and town-home vacancy rate and have shifted to creating a sustainable housing market of affordable detached homes
​The statewide median sales price has outperformed its year-ago standing for 74 months straight​
Florida is a beautiful state with a ton to offer. From beautiful beaches, incredible tropical islands, nightlife-rich cities, and even wide-open plains, there is something in Florida for everyone.

​Property values in the area are higher than the national average at a median value of $325,000, though over half of the residents own their home – 58 percent to be exact.
Whether you want the excitement of life in a city like Miami or Orlando, or want a quieter southern U.S. getaway, the Florida housing market has you covered.